A wall to wall carpet makes your living space beautiful and warm.
This is why a big percentage of homeowners layer rugs to bring color, creativity and pattern.
So, Is It Dumb To Put A Rug Over Carpet?
No, it's not. Adding rugs to an already carpeted room  increases comfort and enhances your interior design. You have many reasons to add pieces of rugs on the carpet. What you need is to learn tips to bring out this interior décor design perfectly. Nothing looks terrible like the wrong rugs place on a carpet because they do not blend and your space ends up losing its appeal.
Seven Reasons Why You Should Put A Rug Over The Carpet
While a carpet that covers your floor fully is amazing, it shouldn't deter you from getting area rugs.
These are simple pieces you can use to style and tone any space. It can help you blend you décor elements easily because they are available in various colors, textures, patterns and much more.
A single rug can break the boredom brought by wall carpeting. Seeing one color all the time is not exciting.
But getting a rug of your choice can quickly bring visual interest into a room. Here are some reasons to get a rug to use over a carpet.
1. Helps divide spaces
A rug is the easiest ways to divide a room and have some distinct areas.
For example, you can place the rug in an area designated as dining section.
Just placing the rug on the space changes the whole outlook of your interior space.
2. Creates thick layers
You can add one rug, but to make sophisticated and more aesthetic, place one more to make it two rugs.
You create a combination of three patterns, and the floor becomes soft on your feet.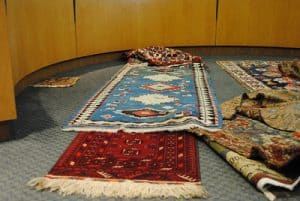 This is ideal in play areas where you will sit on the floor, or need to protect underlying rugs from when the young ones make a mess.
The three-layer works perfectly on the bedside, near the bathroom area, and at the entrance.
3. Disrupts the Ordinary
When thinking of a rug to place over your carpet, you think about one that can match what you already have. Décor appeal has a way of surprising.
Try a rug that is a different color shade or prints.
This kind of rug will bring out the best from your carpet and add a new tone in your space.
You can also try this using an animal print rug. It's an exciting way to add color to your floor over your carpet.
4. Creates a Center of Attraction
If you like bold décor, you should use the layered rugs to create a focal point.
You can pick several outstanding pieces – chairs, accessories, and a rug- and use them to make a dominant display.
The rug will bring out the best impact when placed over a plain colored carpet. The graphic rug will give life to the dull floor and create an artistic appeal. Every room deserves a center of attraction.
5. Covers Walkways
Sometimes you do not want to cover your carpet in the main areas such as the living room and bedroom.
But you can use rugs along walkways such as corridors and the entryway.
Runners are exciting and come in different designs. You can place them over the carpet along the hallways and the porch for decoration and protect the carpet from wearing off due to the foot traffic.
Search for areas that are used mostly in the house. It could be in the laundry room, gym area, or kids' play area.
6. Changes Monotonous Look
If you have had the same carpet for a long time, you and it monotonous and would want to make some changes without replacing the carpet.
The best way is to place is to add a rug that brings the floor back to life.
Pick the rug articulately so that it matches with everything else in the room.
A rug that can blend with your current carpet makes you feel like you have upgraded the floor covers.
Buy a simple rug that has an additional texture or color.
7. Adds Comfort
You can add a rug on your carpet to add comfort, warmth, and make the room cozier. You can do this if you plan to be around the house for extra hours.
If you have young children, a rug in their bedroom makes sure that they will not feel cold as they play on the floor. Kids can crawl and roll over the floor without getting hurt.
Related: Are Free Online Home Improvement Courses Worth Taking? 
How to Layer Rugs over Carpet – Five Ways
1. Play with Shades
Color determines how you are going to layer your carpet.
In most cases, the best layering is when you have a plain colored carpet to place any prints on it.
Prints placed on neutral make the right combination because the colors blend well.
You need to study the color in the room to know what can blend in or what will backfire.
On the other hand, if you have a colorful carpet, you should shop for a neutral rug.
Combining the colors is the biggest challenge that can make or break your decor. The basic rule is to ensure that the two layers complement each other.
2. Patterns
Once you have considered the color, you should move on to the prints on the carpet or rug.
There are hundreds of rug prints in the market.
There are antique and contemporary prints.
This can give you a point to start looking at the rugs and see where your taste lies.
Both vintage and modern styles combine well.
If you have a modern carpet, then you can consider accentuating it with an old school print.
The rug you choose should not clash with the furniture or other pieces that you have in the room.
3. Watch the Size
When a rug covers a significant portion of the carpet, the room looks neat and balanced.
You have to balance the rug's size and that one of the carpet on the hand, the rug should not cover the whole carpet.
Rugs are mostly for spaces that are used every day. If the rug you have is too small, then do not place it in the living room.
Try a smaller area like the mudroom or the porch.
4. Pick Material Wisely
There are various types of material used to weave rugs and carpets – silk, cotton, wool, jute, bamboo, animal skin, and polyester.
It would help if you considered the reasons you are getting the rug.
For instance, you may want to layer the carpet in your walking closets to protect it from water as you step in from the bathroom.
For such a purpose, then you cannot pick animal skin rugs. You have to go for a rug that is absorbent and easy to clean.
If you are looking for warmth, you can choose a fur or wool rug. The need at hand will determine the material of the rug.
5. March the Textures
You must make sure that the two layers can lock together, and look easy against each other.
This means that you cannot use a fluffy rug over a fluffy carpet. This is a fail.
The best way is to have the rug looking heavier than the carpet.
The rug should press the carpet down, and you can easily walk around without tripping. You should avoid a scenario where one surface is way too above or low with a wedge that can make it hard for you to walk around.
How Do You Choose The Right Rug For Your Space?
1. Consider the room users
The people who use the space you want to cover with rug determines what you choose buy. If the area receives heavy traffic go for a durable and heavy duty rug. It should also be stain resistant and easy to clean.
Besides, consider the need of the users. For example, if there is anyone with mobility issues or elderly, go for a low pile rug.
This reduces the risk of getting stuck or tripping as they move around the house.
A house with kids should be quality enough to withstand spills and stains. Go for one that you can wipe clean effortlessly.
2. Is It The Main Seating Space?
If you want a rug for the main seating space, get a properly oriented rug that will fit the shape of the space.
Your rug should be at least six inches wall for small spaces.
The rug should not cover the whole carpet, it ruins its aesthetic.
3. Ensure color coordination
Interior designers value color coordination. It brings out the artistic beauty in a space.
You can either match your rug with your colors or get a contrasting one.
Just make sure you understand your home's color palette and you will love the outcome.
Conclusion
Putting a rug over carpet is not dumb. It is the most unique way to bring together different colors and style into your space. These pieces are timeless and will transform your space instantly whether it has wall to wall carpet or hardwood floor.
Frequently Asked Questions
Q: What is the difference between a rug and carpet?
A rug is a piece of fabric that is used to cover a small area in a premise that is easy to clean through a washing machine, while the carpet is a fabric that covers the whole floor area (wall-to-wall) and can be either attached to the floor permanently or not and they require more attention when cleaning them.
Q: How can you tell if a rug is a ball of wool or synthetic?
Take a piece of the fiber from the rug and do some experiments.
Take up a lighter and burn the fiber. If it arches away from the fire, then it certainly is synthetic.
If not then your rug is made of natural fiber such as wool. You can also dip the piece of fiber in bleach (Chlorine water), and if it dissolves, then it's affirmative that your rug is made of wool.
Q: How can you tell if a rug is handmade?
If you look at the back of the rug and you do not see the pattern as clearly as the front, then you can conclude it's not handmade.
If you also note the rug has a backing be cautious. The backings are a fit to hide the back pattern.
Q: Can you staple the rug to the carpet?
Yes, you can. You just have to use a heavy-duty staple, and this is efficient as it makes your rug steady and prevent it from walking on your carpet.
Q: How can you keep the area rug from bunching up on the carpet?
Firstly purchase a non-slip rug pad. Keeping it under your rug prevents it from folding and bunching.
Q: How can you remove creases and wrinkles from an area rug?
Try steaming. Use a steam iron if your rug is synthetic.
Place a damp towel on your rug and place your iron for few seconds on the different problem areas until your rug becomes flat.
If your rug is made of plusher fibers, try combing it and blow dry it brushing out rug wrinkles.
Q: Can you clean an area rug with a pressure washer?
Yes, you can clean an area rug with a pressure washer. This is because it is quite fast and leaves your space free of airborne particles.
Q: How do you stop a rug from shedding?
Rug shedding can be prevented by regularly vacuuming it, placing it in a non-traffic area (where many people don't pass), invest in an anti-slip underlay.
Mostly, shop well.
Find out if you are buying synthetic fibers that will last longer than natural fibers.
Q: Can you wash rugs at the laundromat?
Rugs require professional cleaning. Just make sure your rug is not bigger than two by four feet, however, and select a gentle cycle to avoid it from fraying or tear apart.
Q: How can you keep a rug from curling?
You can keep your rugs from curling by placing heavy objects at the curled parts, such as heavy furniture like your coach, for a few days.
If this does not seem to work for you, you can opt to steam up the curled part.
You can also turn your rug upside down and keep it under the sun or use a hair drier for it and Voila! The curling will get off.
Q: What size rug is good for dorm rooms?
5′ x 8′ is a perfectly suited size for most dorms as it covers a large floor space.
Q: Are Roombas bad for rugs? How do you keep a Roomba from getting stuck on rugs?
Roombas have a ledge detection sensor. If your rug appears like a ledge, more so if the Roomba is transitioning from your floor to the rug, it will damage it. If you want to keep a Roomba from getting stuck to your rug, try taping your rug onto the floor using a thin tape and use double-sided tape under the rug. Tape most especially the comers, to provide a smooth transition.
Q: Is it ok to layer rugs on the carpet?
Of course, it is rugs that help prevent carpet wear and tear, rugs too are a cheap and stylish way of concealing some of your carpet's damage, such as small holes.
Q: Is it ok to put a rug under the dining table?
It's ok to have your rug under your dining table, just make sure about 24″ of the rug extends past the dining table chair this is to provide a state of balance.
Q: Is it safe to run the extension cord under the rug?
No, this is very bad and risky too, when the extension is cover by a rug it can easily get damaged and not get notice nonetheless, extension cords are fire hazards if it overheats and gets any kind of friction, can trigger spikes resulting in the rug caught fire.
Q: Is it safe to vacuum a damp rug?
No, it's is not safe to vacuum a damp rug, this is dangerous as not all vacuums are made to remove dampness, it can shock you to death, or the vacuum might be damaged or blown up for your safety call for professional help.
Q: Is it safe to buy a used rug?
It is safe to buy a used rug. However, there are risks involved in it, you need to consider a few things before purchasing one, look out for the rug that has not been used for a long time, the type of material used to make the rug, clean it properly just in case it has insect infestation and ask the previous owner how best to maintain it.
Q: Do curtains and rugs have to match?
You don't have to perfectly match your rug with your curtains since they come with different sheds, pertains, and colors, thus some colors might not blend well together, you can consider blending or matching different colors by combining two or more that will complement each other.
Q: Can you put rugs on top of underfloor heating?
You can use rugs on top of underfloor heating, and they are essential in restricting the heat from passing into the room from the floor slab.
This will be effective in reducing problems with your flooring. Choose a good rug material that will act effectively as possible. Consider using natural fibers.
Q: Is it ok to steam clean a wool rug?
It is alright to clean a wool rug through stem however, you might consider getting it done by professionals, when wools get steam cleaning they tend to take a long time before drying, and this can cause mold and mildew, and if the stem is too hot, it can affect the rug and damage it.
Q: Can a rug be too big for a room?
The size of the rug affects how your house feels. Finding the correct size of a rug can create a good illusion for your home.
Rugs add a great effect by introducing complementing colors and texture in the room.
When the rug is too big, it affects the room by seeming smaller and cramped.
Q: Will a rug protect the carpet from office chairs?
A rug will help our carpet from being damaged by the office chairs covering the floor area where your chairs are will increase the life span of your carpet especially if they are broken or the roller-blade caster wheels from ruining your carpet.
Q: Will an area rug make a room look smaller?
Depending on the size of the room a rug can create an effect of making your room look smaller, if the rug is too large in an area it will make your room seem smaller.
This effect can be achieved by considering the color and the size of your rug. If you want your room to look smaller, do the following:
Use one large rug to create an illusion in your room, or add another one to divide the room.
Use different shapes in an area, and do not shy of using bright, dark, and rich colors with different patterns and colors that blend.
Q: Where is the best place to buy rugs?
When you've made up your mind on the rug, you want to buy, do your research on the places you can find a good rug, you can visit shops near you and research on the best available rugs that blend well with your room.
You can also buy online, this will help you have a variety of options, see their designs and colors. However, be careful with online scammers.
Find the best site to buy your rugs, and that is recommended, or visit their shop if possible.
Q: How do you keep a rug smelling fresh?
Keeping your rug smelling fresh is very important to your home, understand the material of your rug and how best to keep it smelling fresh.
If you have pets with you always clean them, avoid using shoes in the house, regularly clean your rugs, deal with stains as soon as they appear, try using products that have a nice smelling fragrance that lasts longer, and avoid any dampness on your rug replace as soon as any spillage occurs.
Q: How can you safeguard rugs from pets?
You can safeguard your rugs from pets through regular maintenance by cleaning your rug.
Purchase a medium color rug that will not conceal dirt, pet fur, or drool, you might also consider getting a stain-resistant rug although they might cost you more but worth the troubles.
You can also ensure your pet's nails are kept short by trimming them or taking them to a groomer this will reduce the damages to your rugs and vacuum at least twice a week, and a separate rug on the door will help your pet wipe its paws as they enter the house most especially on muddy or rainy days.