Plumbing is a complex system that requires all the components to function correctly for the sake of the entire system.
Garden hoses do an excellent job when you're watering the lawn, washing your car, or filling the kiddie pool.
They are worth it, particularly if they are non-kinking.
Because manufactured homes are often the first to test and taste technology, you can be sure that there are varieties out there.
With such a wide array of options, it's easy to buy any garden hose you come across.
Notably, garden hoses have many slight differences that impact their longevity and how easy you can use them.
That said, it makes perfect sense to buy a quality garden hose that will last for years.
In this post, you will learn more about manufactured home garden hoses to help you make an informed decision when purchasing. Read on!
Manufactured Home Garden Hose Options: The Eight Types
Although the primary purpose of garden hoses is to convey water, they come in different types suited for different uses.
Here are the various types you can find in the market.
1. Lightweight hoses
Also known as light-duty hoses, lightweight hoses are typically made from vinyl.
To prevent kinks, they are reinforced with multiple piles or reinforcing mesh.
Lightweight hoses usually come in thinner diameters and have plastic fittings.
The appeal of these hoses is their price – they are much more affordable – making them an excellent option for homeowners gardening on a budget.
It is noteworthy that lightweight hoses are 50 feet long or less.
2. Flat hoses
Flat hoses look like a smaller version of a fireman's hose – they are round when full of water but will flatten when empty.
These hoses are self-draining, lightweight, easy to roll up and take less storage space than conventional hoses.
Because they are very flexible, flat hoses puncture and kink more easily, plus they have a lower burst pressure rating.
Another significant downside is that they underperform when pulled around corners.
3. Expandable hoses
As the name suggests, expandable hoses are garden hoses that expand up to three times their length when filled with water.
They are also lightweight and provide adequate water flow relative to traditional garden hoses.
Despite expanding as advertised and being handy for small jobs, they often stop contracting fully with time.
They come with a flexible thin inner tube that is more likely to rupture in high water pressure or when left in the sun.
Expandable garden hoses often have plastic coupling, which is vulnerable to cracking.
This shouldn't be something to worry about because there are some options with brass coupling.
4. Soaker hoses
Typically used for garden irrigation, soaker hoses are made of plastic or recycled rubber and have porous walls.
Water oozes out through the tiny holes, allowing it to seep into the soil where plant roots utilize the moisture efficiently.
Soaker hoses are best suited for level landscapes with relatively straight lines to ensure water is distributed evenly.
This type of garden hoses can be laid directly on the ground, preferably under a layer of mulch or buried under the surface.
This helps prevent deterioration that might be caused by exposure to direct sunlight.
Soaker hose come in varying diameters and lengths to suit different uses.
Larger soaker hoses require decent water pressure and are difficult to work with because they aren't flexible.
5. Sprinkler hoses
These are hoses that send out a misty spray of water ideal for irrigating smaller areas.
Even so, you should not install them around plants or in tight spots where the hose can't be laid flat.
Sprinkler hoses work well where there are no taller plants that may block the spray.
6. Coiled hoses
A coiled hose is a type of garden hose that pulls together into a tight spiral when not in use.
It is an excellent option for manufactured homeowners looking for a space-saving option.
They barely stretch out to the full length because of the coils. For this reason, they are handy in watering small areas like patios and balconies.
The downside is that they are tricky to store because they get tangled easily. Even so, there are wall-mounted and stand-up hangers that make storage relatively easier.
7. Drinking water safe hoses
The majority of garden hoses in the market are made with plasticizers that make the hoses flexible.
Unfortunately, these hoses contain chemicals, like lead, phthalates, and BPA, that find their way into the water in the hose.
Even though these chemicals don't harm your plants, they can wreak havoc when ingested.
If you or your pets will be drinking out of your garden hose, you need to pick the right pipe that won't leach toxic chemicals.
Ideally, you need a hose that carries the label "drinking water safe."
You can also buy a hose labeled "lead-free."
These types are made with non-toxic, FDA-approved inner cores.
8. Metal hoses
Metals hoses are puncture- and kink-proof garden hoses often engineered out of industrial stainless steel.
They are still lightweight like their peers, are cool to touch, and resistant to corrosion and UV rays.
These hoses are durable and can be used on virtually any terrain without worrying about any issues.
The significant downside of these hoses is that it is hard to roll them for storage, plus they need enough space. They also have a higher price tag.
Seven Garden Hose Shopping Factors
There isn't one garden hose that is perfect for everyone.
To ensure you buy the best garden hose, make sure to strike a balance amongst the following factors.
1. Length
When shopping for a garden hose, you may be tempted to buy the longest option and use it for all your watering needs.
Although it seems like a good idea, don't execute it.
Long pipes are expensive, can result in lower pressure, are heavy and difficult to drain before storing, and need more storage space.
To get decent pressure at the end, choose a hose that reaches all around your yard without a long extra length.
To bypass the weight of a 100-feet hose, you can pick two 50-feet hoses.
2. Material
Garden hoses are made from various materials., all with their pros and cons, including price and different lifespans.
The material you choose will largely depend on your budget.
You can find vinyl, polyurethane, rubber, extruded synthetic rubber, or stainless steel garden hoses.
Rubber is flexible but heavy; polyurethane and hybrids are kink-free and light; vinyl is cheap but heavy, while stainless steel is non-kinking and corrosion-resistant.
Most polyurethane garden hoses do not leach chemicals.
3. Hose diameter
Hose diameter is the width of the interior of the hose.
The standard diameter for a residential garden model is ⅝″.
Other common and widely available diameters are ¾″ and ½″, then the uncommon 7/16″.
A bigger diameter means the hosepipe will convey more water.
All the same, a bigger model may be unnecessary if the flow is more than you need.
For smaller gardens, hoses with a standard diameter or smaller will do the job.
4. Strength
The strength of garden hoses is measured in terms of burst pressure, the water pressure at which it is likely to rupture.
Garden hoses with burst pressure ratings above 350 PSI will do most of the job.
The higher the burst pressure rating, the less likely the hose will burst.
5. Flexibility
Nearly all hoses will kink but at varying degrees.
When shopping, it is good to pick a flexible garden hose that can be used around corners and easy to store.
Even so, don't pick a hosepipe that is highly flexible that it kinks easily.
For most garden hoses, a hose reel can help prevent kinks.
6. Couplings
Also called fittings, these are the end pieces on your hose that you attach to a nozzle, sprinkler, water spigot, or another hose.
Although cheaper hoses come with plastic fittings, it is best to pick a hose featuring metal couplings.
Brass couplings are common but you can find options with aluminum and stainless collars.
Octagon-shaped fittings are best because they are easy to grip either by hand or using a pair of pliers.
Make sure to check if the couplings are certified lead-free, especially if you will be drinking from your garden hose.
7. Safety
Safety is a major concern if you, family members, or pets will be drinking from the hose.
If you're certain to drink from your hosepipe, make sure to buy FDA- or NSF-certified food-grade products. That way, you are sure not to ingest lead, phthalate, or BPA.
Even with "drinking water safe" components, it is a no-brainer that you should drink water from a safe, filtered tap.
A high-quality hose is an asset for every manufactured home.
Before making a purchase, measure the distance from your actual wall spigot to all the spots where you will be using the hosepipe.
If you will be using your garden hose frequently or on rough terrain, consider more durable options with a warranty.
Finding the right garden hose will eventually pay off and be worth the investment.
Conclusion
A garden hose is such a simple piece of garden equipment that serves to disperse water.
A quality garden hose can last for years.
When shopping, make sure to assess the pros and cons of different types, and you will eventually get the best deal.
Even on a budget, you can get a quality hose for your watering needs.
Frequently Asked Questions
Q: Are stainless steel garden hoses better than rubber?
Certainly, stainless steel garden hoses are becoming more common nowadays, thanks to their durability and resilience.
So, are they better than rubber hoses?
Yes, stainless steel hoses outshine their rubber counterparts in almost all aspects.
They are sturdy, weather-proof, durable, non-kinking, and less prone to ruptures.
Besides, they don't bleach harmful chemicals like rubber options do when exposed to chemicals or heat.
Stainless steel hoses come with significantly high burst pressure, making it hard to rupture in high water pressure.
The metal shell even protects the inner hose should your dog bite the hose.
With their weatherproof shell, stainless steel garden hoses handle cold weather pretty well.
They remain flexible and durable in winter but tend to underperform when it is freezing.
Because of their ability to reflect UV rays, metal hoses deliver fascinating summer handling and are cool to touch even during hot days.
The interlocking technology makes them strung and flexible – they can be easily bent in any direction. This allows easy maneuvering when watering.
Notably, stainless steel garden hoses will still make use of rubber under the metal exterior shell.
Q: Is it bad to drink from a garden hose?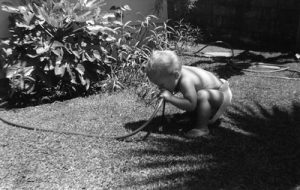 Generally, drinking from a garden hose is a bad idea. This is because a majority of garden hoses, unlike plumbing inside your home, are not made to deliver safe drinking water.
Garden hoses manufacturers use phthalates, lead, and BPA (bisphenol A) to stabilize the plastics, particularly PVC.
Indeed, some PVC hoses often carry a warning indicating that they are dangerous.
Because these toxins find their way to the water inside the pipe, drinking from your garden hose risks ingesting these harmful chemicals.
The good news is that you can buy fixtures with couplings made using FDA-approved materials.
Drinking from such hoses is less likely to cause any poisoning.
Note: Even with garden hoses made from FDA-approved materials, you should wait for the water to run until it's cold. Allowing water to stagnate inside the paper provides a habitat for Legionella bacteria. Free-living amoeba (FLA) can also develop in stagnant water.
Q: Can you spray paint a garden hose?
Yes, you can spray paint a garden hose to give it your color of preference. Many homeowners paint their garden hoses when upcycling them.
Regardless of the material, painting should be done right; otherwise, your hose will be susceptible to chipping, peeling, or cracking.
Q: Is it OK to leave a garden hose outside in winter?
Every devoted gardener prioritizes taking good care of their tools and equipment.
That said, it is imperative to detach your garden hoses during winter; otherwise, you run the risk of your pipes freezing and bursting. A frozen hose can burst because the water expands as it freezes.
All the same, leaving a garden hose outdoors during winter is OK.
Just make sure to drain all of the water from the hose. Thankfully, draining a hose is one of the easiest tasks.
Although draining helps bypass the risk of bursting, the temperature swings can cause the hose material to deteriorate faster.
Q: What do you need to connect two garden hoses together?
Most garden hoses come complete with male and female hose thread connectors.
All you need is to screw the male connector of one hose into the female connector of the other hose.
If you don't have standard fittings, you can use a coupler to join them. Couplers are useful in joining hoses of the same diameter.