Are you thinking of having a backyard wedding?
Of course, venue choice is certainly one of the first big decisions you and your fiancé will have to make regarding your big day.
There are many reasons you may consider holding your nuptials in your very own yard.
After all, there is really no place like home.
But, before making any big decision, you need to understand the cost of your decision and its payoff.
So, What Are The Pros And Cons Of Hosting A Backyard Wedding?
Having a wedding in your backyard creates and nourishes beautiful memories for many years to come. What is better, it is entirely customizable, economically friendly, and no venue hire costs.
There are cons too: It can be logistically challenging, risks exposure to elements, and requires you to hire essentials like tables, chairs, fridges. Again, an outdoor wedding can create too much noise for your neighbors.
Holding nuptials at home brings a rustic and homely feeling along with it. Although an average home is not massive enough to host 150 guests, 75 cars, and tables needed for a full-on wedding, a backyard wedding helps eliminate one of the major expenditures – hiring a wedding hall.
If you're planning to declare your commitment to each other in your own yard, this article is for you.
Whether your home is fancy with sentimental meaning or you happen to have a decent yard, here is all you need to know about backyard weddings.
What Is A Backyard Wedding?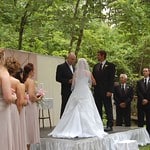 As simple as it sounds, a backyard wedding is a wedding like any other, but in this case, held in a backyard, either privately owned or that of a close friend. It is intimate, convenient, and maybe best of all, budget-friendly.
Backyard weddings, more often than not, boast of an immediately familiar, comfortable, warm, relaxed ambiance that welcomes a rustic vibe, tough to replicate in other venues.
Recently, backyard weddings and other outdoor, home-grown events have been enjoying a resurgence after many venues were shut down following the pandemic restrictions.
The success of these unique and intimate affairs has been achieved with ease thanks to the availability of small-scale and cheaper yet high-quality catering with food trucks and mobile entertainment packages.
Eight Pros Of Hosting A Backyard Wedding
If you are planning to wed in the warmer months, you may be considering celebrating your big day in your backyards. Of course, memories made at a private yard are invaluable.
Here are the benefits of a backyard wedding:
1. Home weddings can help save money
A backyard wedding is not only perfect for couples who want a uniquely sentimental feel but also for you looking to have your dream wedding on a budget.
Having your wedding at your home or that of a close friend will automatically and dramatically slash your wedding budget.
Naturally, this is because you're not paying for a venue, per-person fees, security deposits, and other hidden charges that go along with a hired venue.
Hosting the big day in a decent yard may help save cash on decorations because you already have visually impressive natural elements.
Of course, you can play with the spectacular, natural view plus minimal decorations to create a homey feel.
Although you will likely need to rent almost every other thing, rentals barely outweigh the cost of a venue.
Related: Are Potluck or BYOB Backyard Weddings Tacky?
2. Unique venue possibilities
With outdoor celebrations, you have endless possibilities to build your dream venue in your own backyard.
Considering that you have an unlimited degree of personalizing the space, you can blend the natural elements with beloved decor to create a picturesque scene.
It is enjoyable making a marital commitment in a setting that is perfectly fulfilling.
Interestingly, there is minimal need for extra decorations.
3. Freedom to have intimate guests list
Backyard weddings tend to be naturally more intimate than weddings at an ordinary venue.
It is an excellent reason to have intimate guests. After all, homes barely have massive space to host hundreds of people plus their cars.
4. You're not restricted to a limited number of guests
Like any other outdoor event you host, the number of people you can invite to witness you make a marital commitment is limited to what your yard can hold.
Although there is no minimum or maximum, it is noteworthy that other factors like pandemics may limit your guest list.
Remember, more guests may mean less interaction. For this reason, it makes perfect sense to stick to an intimate guest list.
5. You can include your furry friends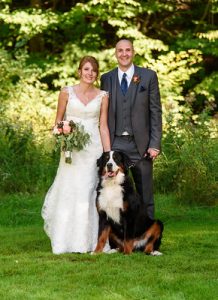 Considering that many couples are choosing to invite their beloved pets to their wedding, having a wedding in your yard gives you a perfect excuse to involve your furry friends.
6. Dates are flexible
Your wedding date is not dictated by venue availability.
Yes, it looks small, but having total freedom to choose a date that works best for you, your fiancé, and most guests is a huge benefit.
7. A unique experience for your guests
Assuming you have some pride in your home, an alfresco nuptial allows your guests to see your home. It also allows you to connect with guests differently than you would in a hired venue.
8. The Weather
If the weather is perfect to allow you to tie the knot uninterrupted, your backyard wedding will be an unforgettable event.
Six Cons Of A Backyard Wedding
Backyard weddings are special to deliver a unique homey feeling, but there is the flip side. Here are some of the things that might discourage you from hosting an outdoor wedding.
1. Limited facilities and complicated logistics
Although hosting a backyard wedding sounds like a breakthrough, you will need all the necessary facilities, which don't come cheaply.
Of course, renting facilities might be more cost-prohibitive if you're not careful with your planning.
It takes longer than you may expect to research and vet vendors.
You also have to coordinate vendors and ensure a ton of details are well addressed in the planning process without overwhelming your budget.
Basically, you are likely to source extra furniture, lighting facilities, reception decor, mobile catering, sound systems, fairy lights, and sometimes portable bathrooms.
2. Inadequate parking space
This sounds obvious. Average homes are not designed to host a "fleet" of cars, meaning parking space may pose a significant issue.
If you lack enough parking space, you can solve this by cutting down your guest list or bus people to your home.
3. You need to get permits
Depending on which state or city you live in, you might need a special permit to host such a large-scale event at your home or the house where you are looking to host.
Acquiring such a permit can be costly, time-consuming, and tricky.
This can significantly add to the overall cost, outdoing the benefits.
4. Too much noise for neighbors
A backyard wedding is a big event with many guests and superior sound systems.
Your neighbors may not welcome the noise and people traffic, which can pose a serious issue.
Related: Is It Tacky To Have A Wedding Ceremony Without A Reception?
If the noise significantly disturbs the neighborhood, it might mean that entertainment will be wrapped up early; therefore, cramping your style.
This could be resolved by inviting your neighbors to join you in celebrating or, at least, letting them know about your alfresco nuptial.
5. You will be stuck with so much rubbish, which translates to hectic cleaning up.
6. There could be potential property damage.
Final thoughts
Honestly, there is nothing more alluring than being welcomed into someone's home, partying, and meeting other people important to the host family.
This means backyard weddings are just awesome.
With proper planning, you bring your vision to life, making things unique and fun.
Although choosing to host a backyard marriage is a personal decision, you can make it a perfect day that you wish to relive over a thousand times.
All in all, make sure to weigh the pros and cons before making your big decision.