Do you want to change the look of your manufactured home?
Painting your home is one of the fastest ways to transform its feel and overall look.
Giving your rooms a fresh shade also protects them from elements.
So, whether you're doing it on your own or with the help of a professional, it makes sense to ensure the job is done correctly.
So, Is It Better To Paint Your Home Yourself Or Just Hire Someone To Do It?
The answer depends on a range of factors, including the resources you have on hand, totals costs, your budget, your painting skill, and even how you value your time. Also, when it comes to painting your home, safety should come first.
You may be a savvy DIYer, but the steeply pitched roof of your manufactured home is a little beyond your reach.
All the same, there are pros and cons of each no matter your decision.
Interestingly, there are no building codes that apply to decorating your home. But keep in mind that there is a notable difference between a sloppy paint job and a home with a picturesque fresh coat.
So, you have just decided to give your home a makeover and are torn between rolling up your sleeves or hiring an experienced painter.
There are lots of things to consider before making the ultimate decision.
In this article, you will learn more about painting your home and get insight into whether to do it or leave it at the hands of professionals. Scroll further!
Do It Yourself Or Hire A Professional Painter?
Painting can be fun, but it involves a lot of preparation work, which is time-consuming.
Since we're living in a fast-paced world where time is so precious, hiring a professional home painter might be a smart investment.
On the other hand, if you want to give your home a new look but are on a budget, painting on your own might be a natural money-saving project.
All the same, consider the aspect that money is time – When hiring a professional, you pay for their time and craft expertise, right?
Even when on a budget, you will want to compare the cost of
buying paint brushes
rollers
paint trays
painter's tape
renting a power washer
and renting a ladder.
The cost might be way higher than hiring a professional.
And again, painting can be challenging and more time consuming even when you have the right equipment. It usually takes homeowners twice as much time to paint as it would take a professional painter.
Painting a room, let alone your entire home, may mean a lot of work that you might think.
Interestingly, you can do it at your own pace, and if you're lucky, make it a "painting party "with the help of family and friends.
It brings an unmatched level of satisfaction seeing your entire home transformed by your own hands.
If you are not a savvy DIY and still contemplating hiring a pro or doing it yourself, here is a great idea for you. You can start painting a wall or room and see how the craft satisfies you, then decide.
Keep in mind that it is not easy to achieve clean lines like a professional. You may be a keen DIYer but also fail to achieve the results of a professional, which makes sense to hire a local painter.
You also don't want to start the painting job, and suddenly it becomes larger than you thought at the start.
Although it is relatively costly, a professional painter will complete the job faster while giving your rooms an impressive look.
You will be surprised to see a contractor paint your entire home with the time it would take you to paint one or two rooms.
The good thing is, although it's costly, you don't need to break a bank to have your home painted by a professional.
Even so, make sure to hire a reputable contractor who will do everything professionally.
Two Reasons To Go The DIY Painting Route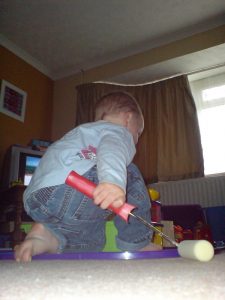 After you have decided to give your home a new look, the next immediate decision is to determine whether to do the work yourself or hire a professional.
Depending on where you're painting and your ability to do it correctly, you may consider doing it on your own.
No matter your choice, here are the benefits of doing it yourself.
1. Cost
It goes without saying that cost saving is the core motivation for getting your hands dirty.
Depending on how well equipped you are with painting equipment and tools, you can save several dollars. Indeed, if you have other tools, your largest expense will be the paint itself.
2. Creative control
Another benefit of a DIY paint job is that you have control over the craft. From the selection of colors to painting techniques and finishing touches, you will ultimately control the job.
You have the freedom to paint at your own pace, allowing you to complete the project in phases without distracting other schedules.
Besides, you can enlist friends and family to help you, which is a great way to engage them over a weekend.
When painting your home, keep in mind that, unlike a bad haircut, a sloppy paint job will last for years until you do it again.
For this reason, make sure to assess your ability to do the job right because the results will judge you. Simply, everything from preparation to finishing touches should be flawless.
Unfortunately, the quality of your work is unlikely to look professional. This is because professional painters commit to understanding painting prep-work nuances and quality control.
Another downside of painting on your own is that it wears the body. So, if you enjoy your job and consider your time precious, it makes sense to hire a professional.
Five Reasons You Should Consider Going With A Professional Painter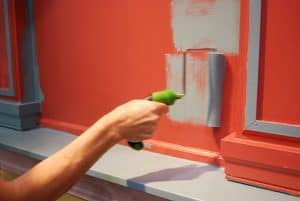 Besides the impressive results, many homeowners appreciate the convenience that comes with professional painting.
By hiring a professional, you are confident that the job will be done right, giving your home an attractive new shade.
Here are the reasons any homeowners should consider hiring a professional home painter.
1. You Get Professional Results
If you hire a professional painter to paint your home, you're guaranteed superb and flawless results.
A professional can achieve clean lines and edges plus neat, uniform color.
2. You Get Enough Time To Engage In Other Activities
Hiring a professional allows you time to engage in other perhaps important activities uninterrupted.
Since the job is in the hands of the right people, you may need to show minimal commitment with a guarantee to find your rooms exceptional.
3. Safety
Although painting is not the most life-threatening job, it can be hazardous.
It involves using a ladder and scaffolds; therefore, exposing you to the risk of being injured should anything happen.
However, if you hire a professional painting contractor, you lower the risk of injury and straining your body.
4. Expert advice
Did you know that sealers are essential for considerably old homes?
And newly built manufactured homes have more moisture?
With their wealth of experience, professional painters can offer expert advice on the right paint to your home and each room—for instance, shade to match your furnishings and proper color dining, balcony, and bedroom.
5. Quality
Do you know how to make the paint look good before you can start applying it?
If not, hire a professional. It is hard for an amateur to achieve the results matching those of a professional, and this is a good reason you may consider hiring a professional.
Hiring a professional painting contractor to paint your home saves you the hassle of doing the job. Excitingly, you're sure to get flawless results.
Three Things To Consider When Making A Final Decision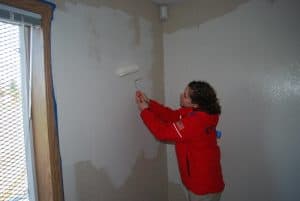 A majority of homeowners consider painting to be a relatively simple task – dipping a brush or roller into the paint and evenly applying it to the walls.
Well, that is what happens for the most part.
But have you ever taken time to think about all that happens to make your walls appealing?
Here are things to keep in mind.
1. Painting is a skilled job that requires appropriate tools and training
The surface needs to be prepared, and painting must be done correctly to achieve a quality finish.
2. Painting can be hazardous and requires some attention to detail
The job involves ladders, dealing with solvents plus dust, which exposes you to some risks.
For instance, homes painted before 2017 may have lead paint, which is potentially lethal.
3. Painting requires preparation and disposal time
It's going to take time preparing your home before painting and you'll need to properly dispose of your paint upon completion of the job.
Conclusion
While anyone can smear paint on the walls, it takes a little experience and expertise to achieve excellent results.
Whether to hire a professional or do it yourself, it all depends on your preference.
Make sure to weigh the pros and cons of each and make an informed decision.
If you must hire professionals, it is good to get quotes from at least three contractors then choose the best.
If you're a keen DIYer and strongly believe you can achieve impressive results, doing the paint job on your own can save you a considerable amount of money.