Nothing beats the fun of decorating your home for Christmas.
For many people, Christmas is never complete without the charming multicolor Christmas lights.
The alluring arrays of light decorations on the manufactured home outdoors, embellishing trees, and entire indoors indicate that it's Christmas time. Basically, they bring Christmas to life.
The festive season is here again. You are probably decorating your home with beautiful lights, lovely garlands, and snowmen.
Fortunately, there are many options for creatively decorating it to make it feel bright, cheery, and festive during Christmas.
Manufactured home Christmas lights come in all sorts of colors, sizes, and shapes with the ability to blend with your decor or dominate for fantastic holidays.
You might want to decorate your abode with the "right" Christmas light to outdo your neighbors. There are many Christmas lights to select from when designing your indoor and outdoor displays.
Although the festive decor you choose to give your home a merry look depends solely on your preference, you need to start somewhere.
This article will introduce to you the factors to consider when choosing Christmas lights for a manufactured home.
It will also offer insights and ideas on how to decorate your home and give it a merry look throughout the period. Let's get started.
What Should You Consider Before Buying Manufactured Home Christmas lights? (9 Things)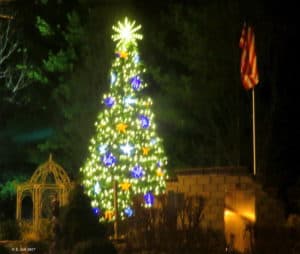 The holiday season will be soon upon us, and you'll want your house to stand out from the rest with perfect lights and festive decor.
While Christmas roof lights take center stage in the outdoor arena, the outdoor decor creates a warm, glowing welcome.
To ensure your indoor and outdoor lighting turns out well, you need to select lights wisely. Careful selection ensures you illuminate your manufactured home optimally.
Choosing indoor Christmas lights is not much overwhelming because there are minimal factors to consider. For outdoor lights, the selection can present to your significant challenges.
Here are some of the factors to consider when choosing Christmas lights for a manufactured home.
1. Size
Christmas lights come in different sizes and shapes.
Mini lights have gained unmatched popularity in the past decade, and they are a favorite for most decor enthusiasts.
They make an excellent choice, especially when put in insane numbers, inside and outside the house.
Although the mini Christmas lights are the most popular, the retro big colored bulbs are making a strong comeback.
The good news is that they are available as LEDs. For a nostalgic look, you may want to select large lights for the outdoor and smaller lights for the interior.
Regular Christmas lights include:
There are the commonly used lights with a candle-like bulb shape and a pointed tip. Generally, they are ⅝-inch tall with a ¼-inch diameter.
They are slightly larger and suitable for both inside and outside a manufactured home.
Although there are various shapes available, the strawberry-shaped lights are the most common.
Featuring about ½-inch long lenses, these Christmas lights are 1⅛ inches tall and ¾ inches in diameter.
These strawberry-shaped lights are slightly larger than C6 lights with a 1-inch diameter and 1½-inches tall.
If you are fond of Christmas trees, these lights with a bulbous look are an excellent option to illuminate those beautiful trees.
C9 lights are the largest commonly used "traditional Christmas bulbs" and have the same shape as C7 and C6. They are 2 ½ inches long and are 1¼ inches in diameter.

These decorative globular lights come in many sizes; therefore, making them a perfect option to add a cozy accent to your space. The series or number after G indicates the optimal diameter of the bulb in eighths of an inch.
2. Durability
The last thing you want in your manufactured home is to install Christmas lights that will burn out before the festive is over.
Christmas lights, especially those meant for outdoor decorations, should be less likely to break. When it comes to the longevity of manufactured home Christmas lights, LEDs make an excellent choice.
Typically, LEDs double the lifespan of incandescent lights. LEDs are also made of lightweight plastic; therefore.
They are less likely to break compared to glass incandescent lights.
For outdoor Christmas lighting, it is advisable you read the product's description to ensure they are designed for outdoor use.
Outdoor Christmas lights are meant to withstand harsh climate conditions, including rain, snow, and sleet.
A concise answer would be – go for LEDs. They are efficient and durable.
3. String length and Bulb spacing
In addition to the size of light bulbs, the length of the string is a major factor to keep an eye on.
It is a no-brainer that you need a Christmas light whose length is proportionate to the size of your manufactured home.
Therefore, you will need to map out your scheme carefully before buying the Christmas lights.
To determine what string length you need, carefully measure your manufactured home's inside and outside while recording everything.
Fortunately, strings are designed to plug into each other, typically four strings, to create significantly longer runs.
Since joining lights is relatively tricky, the best option is to buy long Christmas lights to decorate a larger area. They will save you a considerable amount of time as well as money.
For bulb spacing, you may consider Christmas lights strands with less space between bulbs. Typically, these strands are the best for draping when lining roofs or overhangs.
4. Style of lights
Manufactured home Christmas lights come in various styles; therefore, allowing you to create a strikingly unique lighting setup.
The varieties fit the holiday aesthetic excellently while permitting you to blend with your manufactured home decor.
It is undoubtedly that the ultimate deciding factor of what style to choose is a personal preference. The spot where you want to decorate may also influence the style.
The various styles of Christmas lights include:
String lights are the most popular and a traditional option ideal for roofs, windows, and edges.
There is no better option than lights on a string if you want to trace the outline of your home with beautiful lights. String lights make your fascia board stay unique during the holiday.
This style of lighting is lovely.
They are very easy to install around shrubs or on structures if you want to achieve a beautiful yet uniform look.
Ideally, net lights are a myriad of string light strands woven together to make a net.
You can drape them to give your manufactured home a remarkably merry look without the hassle of laying individual strands.
If you are fond of decorating your manufactured home edges, gutters, and windows, you might consider buying icicle Christmas lights.
They are long strands of Christmas lights with shorter hanging strands, mimicking the look of icicles.
Icicle lights give you manufactured home a whimsical, snow-covered look; therefore, creating a festival atmosphere and illusion with minimum effort.
For an incredibly unique appearance, you can blend them with traditional string lights.
A set of LED bulbs inside a clear tubing is a great way to make your manufactured home fascia bright with a festive look.
Rope lights are often used to outline doors, windows, and walkways. You can also wind them around shapes and designs, making them intricate.
These are inbuilt stakes that allow you to easily outline walkways or driveways. Pathways lights come in many shapes, giving room for choice.
Ideal for outdoor decorations, shaped lights mimic animals' shapes like reindeer or other structures of interest. While you can buy a wireframe and illuminate it with desired lights, buying already shaped Christmas lights can save you time.
Projection spotlights
Laser projections offer the quickest alternative to establish a merry look in your manufactured home. They project vibrant holiday colors and patterns. All you need is to plug them into a receptacle.
5. Choosing the right color
Christmas lights come in a wide range of impressive colors.
Although white and multi-color Christmas lights are the most popular, you can find manufactured home Christmas lights in single shades.
Common single hues on Christmas lights include green, red, and blue.
White Christmas lights create a sense of elegance, multicolor lights look more fun and festive, while single-shade lights create a dramatic holiday display.
You can coordinate them to create a lustrous intricate design. If you are fond of drama, you can find Christmas lights that change colors and blink at intervals.
Besides, note that white Christmas lights have varying hues.
Warm white Christmas lights offer a soft glow; therefore, making a perfect option for indoor use.
In contrast, cool white Christmas lights have a snow-white tone perfect for outdoor decorations.
6. Energy efficiency
In the aspect of energy efficiency, you will want to compare LED and Incandescent Christmas lights.
Nothing can beat the energy efficiency of manufactured home LED Christmas lights.
Basically, LEDs consume about 10% of the electricity used by incandescent lights.
Christmas lights featuring LED technology are an excellent option because they save energy and produce little to no heat; therefore, reducing fire risks.
7. Power Source
The power source plays an indispensable role in determining what Christmas lights to buy for your manufactured home.
If you opt for plug-in Christmas lights, make sure to set a budget for extension cords because you might need them.
Battery-powered Christmas lights make an excellent option if you lack access to an outside electrical receptacle.
You may consider these lights if you are not installing many Christmas lights, but who doesn't like to be outstanding?
If you are serious about decorating your manufactured home, stick to plug-in Christmas lights.
If you want to save energy and have a solar panel, buying Christmas lights powered by solar can be a significant investment.
Before buying solar-powered Christmas lights, ensure your region gets enough sunlight because the last thing you want is the lights shutting or dimming.
Related: Are Inflatable Christmas Decorations Tacky?
8. Visibility
Although this may be controlled during installation, you don't want to get exposed to much light, especially during sleep hours.
It is good to consider the level of light, especially for Christmas lights that will operate continuously.
Don't buy bright lights to be installed on or near bedroom windows. Similarly, avoid having too much light facing your neighbor's windows.
While blues lights are surprisingly impressive, blue LED Christmas lights can seriously mess with your sleeping habits.
Subsequently, you can suffer obesity, diabetes, and depression because of poor sleeping habits caused by blue light exposure.
If you must use blue LED Christmas lights in your manufactured home, ensure to make a remix to save your circadian rhythm.
9. Cost of lights
Apparently, you will want high-quality and durable Christmas lights at a reasonable price.
LED Christmas lights tend to be costly upfront but will save you in the long run.
While incandescent lights are relatively cheaper, they are likely to burn out after one holiday.
LEDs can be re-used and offer other benefits.
Related: Is It Safe to Have Christmas Lights in Your Bedroom?
Seven Benefits Of Choosing LED Christmas lights
While most people opt for LED Christmas lights because they are energy-efficient, is that the ONLY REASON you should choose these lights?
An absolute NO is a short answer.
The great debate on incandescent versus LED Christmas lights is over, and LEDs win in every aspect.
Their durability erases the price differential.
Here are the reasons everyone needs to buy LED Christmas lights for their manufactured home:
LEDs Christmas lights are more energy-efficient.
They are safer for children and pets – LEDs produce next to no heat; therefore, lowering fire hazards.
Unlike incandescent that come in warm-glow, LEDs are available in both cool- and warm-glow varieties.
They produce remarkably brighter light that gives your manufactured home a stunning look while complementing the existing decor.
LEDs are incredibly durable. The lights generally last for over 10,000 hours that is far much from incandescent lights rating.
They are available in a kaleidoscope of colors and designs featuring unparalleled display capabilities.
LED Christmas lights allow you to connect more lights strings. While traditional lights allow combining only 4-5 strings, you can have over 40 strings attached end to end with one plug outlet for LEDs.
Four Outdoor Christmas Lights Installation Tips
Be cautious. Use a ladder in good condition and secure the lights with insulated holders.
Safety comes first. All you want is the lights to shine vividly, not sparks to fly; therefore, use a GFCI-protected circuit.
Use only extension cords rated for outdoor use and keep them above water and snow. Don't let the cables fill the ways.
Use waterproof lights. Outdoor Christmas lights should meet the industry standards.
Four Indoor Christmas Lights Recommendations
This 66-string of 200 LED lights is a great option to decorate your home interior. Brizled Christmas lights feature 11 lighting modes and remote control, enabling you to select from cozy look to cheerful moments.
Although these are incandescent, they are a great option to decorate your manufactured home. If you are fond of nostalgic warm white glow, SYLVANIA mini Christmas lights are for you.
The strand comes with 25 frosted bulbs meant to give your home a vintage touch.
Opticore C7 Christmas lights are rated 60,000 hours; therefore, they are a worthy investment.
Connect 1,000 lights and enjoy a merry look.
A set of novelty is all you need to make your manufactured home stunning during holidays. These Twinkle Star String lights come with nine lighting modes, and you can connect up to 10 strands.
Four Outdoor Christmas Lights Recommendations

With Pretex 100-Count Christmas lights set, you score excellently in decorating your outdoor with classic lights. You can connect up to five strands to enjoy superior brightness.
If you want to give your manufactured home backyard a dose of nostalgia, Multicolored MAXINDA Outdoor LED string lights are all you need.
Brighten your manufactured home this Christmas without having higher power bills.
Kringle Traditions Icicle lights are a perfect choice for any serious decorator's arsenal.
The glow warmly; therefore, giving you an unparraled welcome during the holiday season. They can also be used indoors.
After lighting up the perimeter of your manufactured home, you will want to complete with an intriguing accessory.
These Reindeer and Sleigh Acrylic Christmas figures are what you need to make your outdoor space sparkle extraordinarily.
Conclusion
Giving your manufactured home a stunning look doesn't have to be complicated.
There are many ways to decorate your manufactured home for Christmas using glowing lights.
If you are concerned about energy and durability, LED Christmas lights are your option.
They offer more natural colors for multicolor lights. Incandescent lights are inexpensive and provide a warmer, brighter glow.
Make sure to strike a balance among all factors before buying.