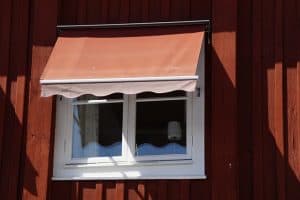 Manufactured home awnings (this includes deck and patio covers) add value to your manufactured home and add the comfort factor.
Installing them on your home is affordable – the cost of a square foot an awning is in the region of $8.
5 Reasons Why You May Consider Installing A Mobile Home Awning
Protecting your deck or patio furniture from weather mishaps
Establishing and entertainment area
Expanding the livable space of your manufactured home
Adding value to your home
Adding a new style to an old home
Below is a guide on the best awnings for manufactured home and the factors you need to keep in mind when selecting the best awning on the market. But first, let's take at a glance at the types of awnings available on the market today.
The 4 Types Of Awnings For Mobile Homes Available
1. Stationary awnings
These are canopies that are installed permanently on the exterior of a home. They are sturdier and stable, but are prone to snow and rainwater collection and wavering under the strong gusts of wind. For that reason, you will need to hire a skilled professional to install them if you ever buy one.
2. Portable
These are transportable canopies built for convenience. Because they are freestanding, you can quickly move them from one location to another location with your manufactured home. Some of them are designed in such a way that they can follow the east-west trajectory of the sun to keep you basking as long as you want.
3. Retractable
Retractable canopies are probably the most often-installed awnings. They can be easily folded or rolled when in demand. Hence, they remove the worry for wind and storm damage. Their portability makes them the top option of mobile and manufactured homeowners.
4. Motorized
These awnings support a limited level of automation – you can roll them using an electric mechanism or a remote-control device if you don't want to get wet during rainfall.
Canvas is the most often used material for manufacturing awnings. This is because it is inexpensive, resilient, and flexible – the three features you want in any retractable unit.
However, the downside of the canvas is its elasticity, which permits collection of snow and rainwater on it, which adds weight that may pose a serious safety hazard. You can reduce the likelihood of such by hiring an experienced professional who will stretch it tight enough to avoid buildup.
Metals are an alternative to canvas. Although they are impressively durable and strong, they are considerably heavy and can only be installed by a skilled professional. Also, they absorb way too much heat when they are supposed to reflect it back into the atmosphere.
Why Do You Need Awnings For Manufactured Homes? Five Reasons….
1. Improved curb appeal
Awnings look great on a manufactured home. Installing stylish awnings can turn your home from a typical boring mobile home into an elegant property. So, if you are planning to sell your manufactured home, adding awnings is the best way to add a few dollars to its price.
2. Extend your outdoor living space
There is no better way of extending the livable space of your home and creating an all-weather environment like adding awnings. If you need a stylish patio for relaxing with your family or shade for any purpose, you'd most likely add an awning.
The best part about awnings is their ease of installation – the cost of installation is low, and, with the necessary tools, you can create your own DIY awning. You can add space to your house in less than a day.
3. Keep off the summer sun and the winter snow
Awnings are one of the best solutions to winter snow and hot summer sun. The materials used to make awnings, such as Canvas, offer impressive protection against UV rays and are resistant to dirt and rot. So, if you want to keep relaxing outdoors regardless of the season, you may consider installing awnings.
4. Reduced cooling costs
A significant amount of the summer heat tends to seep into your home through the windows, doors, and eaves during the hot summer weather.
When the heat builds up indoors, it will require you to leave the air conditioner running for longer. In the long run, you will end up with a bloated energy bill.
With awnings in place, the amount of heat escaping into your home is reduced significantly because they aren't much cooling to do.
5. Good value for your money
Think about it: it is cheaper to add awnings on your home to increase the living space than to add a conservatory or extension.
Manufactured Home Awnings – Recommendations
This motorized retractable awning from ADVANING is suitable for your porch or balcony. It should be one of your priorities if you are looking for an awning that can add character to your porch.
ADVANING avails this awning in 6 different patterns and shades, and you can select from Brick Red, Black, Sand Beige Strips, Ocean Blue, and a few more options.
Because each of these products is made from 100 percent Dyed Acrylic Solution on Canvas, you can rest assured it won't fade under a searing sun. Not just that, but they are also mildew and mold resistant because the weave is designed to release much of the heat it absorbs. Retraction is achieved through either manual or electric motor option.
If you are on a tight budget but still want to improve your outdoor relaxation area, I'd recommend you consider this awning. It is, however, fully manual, which means you will be cranking it yourself with a long hand crank whenever you need it.
The cover is polyester-made, while the coating is made of PU waterproofing material. The PU coated polyester stands up to the rain, sun, and other insults of nature fairly well.
The only drawback about this awning is the lack of a variety in color options – it is only shipped in Tan. The aluminum and steel sturdy enough to withstand strong gusts of wind and snow buildup on top. It measures 12 ft by 8.2 ft.
This is one of the perfect options you could choose for your stucco or sidings. The manufacturer ships it with everything you need to attach it to the wooden walls of your manufactured home as well as concrete walls of a site-built home without incurring extra costs. It comes with a 4′ hand crank, which is long and easy enough to maneuver and open the awning without much noise.
Only two colors are available: Green and Beige.
It measures 10 ft by 8 ft (there is an 8.2 ft by 6.5 ft variety), which is just the right size for an average deck or patio table. The polyester surface is coated with a water-resistant coating.
There aren't many awnings on the market today that combines the elements of eco-friendliness, affordability, and product flexibility as this awning does. And because it is fully manual, you don't need to worry about power consumption.
If you buy it as an upgrade for an existing awning, you will realize that it takes much less time to assemble (about 1 minute) than your old awning.
The 10 ft by 8 ft size is great for covering the patio or any backyard entertainment or eating area.
If you require more coverage, you can choose from two large sizes and from 15 different color options, perhaps the widest color variety you could ever find on the market today.
The hand crank is made to help you easily deploy the awning while the 100 percent water-and-UV-resistant polyester fabric provides the much-needed protection from the climate.
The best thing about this awning is that you can choose to use it without the provided arms and will still look fabulous on your patio. The provided arms allow you to deploy it on the two often used outdoor surfaces: against the wall and vertically on your patio's floor.
Two large sizes are available: the 12 ft by 10 ft variant and the larger 13 ft x 10 ft variant.
The only drawback is its short warranty – 1 year!
There are tons of alternatives on the market with longer warranties. But if you are looking for an affordable yet flexible awning, it is the best you could select.
This is the ultimate entertainment awning. It is easier to install than most manual awnings in this guide. The fact that it is manual means you won't have to worry about electricity bills.
To get the most out of this awning, it is recommended that you install it above the doors and windows. And when you are not entertaining guests under it, you can attach the canopy above your windows during the summer to reduce the amount of heat getting into the house.
The most plausible thing about this awning is the six sizes availed to buyers. They range between 8 ft by 7 ft and 15 ft by 10 ft. There are three color options: Navy, Green & White, and Beige. The frame is made of rustproof aluminum shoulders and galvanized steel roller tubes. Being a manual crank-class awning, expect to use an aluminum bar to set it up.
The downside of this awning, however, has something to do with the manufacturer's failure to include screws for attaching it on wooden walls. So, because you intend it for a manufactured home, you will have to purchase those screws separately.
Well, this awning is very different from all the above-mentioned shades. Instead of coming with a sturdy aluminum frame as most other awnings do, the canopy is hung on several parallel wire cables. As such, adjusting and sliding them is easier for impromptu events. It blocks much (about 90 percent) of the UV rays.
Only two colors are available: black and beige.
The best part about this awning is that the fabric is breathable and lightweight. This is a plausible move away from the traditional tight and opaque canvas. The fact that it is supported by thin cables means you can connect it easily to an existing pergola or a freestanding frame structure.
As thin and lightweight as it is, the installation and removal process is easy and quick and means it can be deployed almost anywhere close to the wall.
Many size options are available, but the most popular are the 3 ft x 10 ft and the 7 ft by 40 ft variants.
However, being thin and overly lightweight means it's more prone to shaking around with strong winds. Also, it doesn't offer sufficient protection from the rain.
How To Select The Right Awning For Your Manufactured Home
There are several factors you need to put into consideration when choosing an awning. Knowledge of those factors would help you choose a product that not only meets your needs but also give you the value for your money. The following details can prove useful when choosing the right awning:
1. What are your needs?
The benefits of awnings are numerous.
However…. What do you specifically intend the awning for?
Do you want to increase the livable area of your manufactured home?
Do you want to protect your patio table from the sun?
Do you intend the awning for covering the entertainment area on your deck?
It can be any purpose. Fortunately, there are the right awnings for every task. You need to evaluate the benefits and drawbacks of buying each type of awnings on offer.
2. What's the design of the awning?
Visitors will see the design of the awning before they even get to sit under it. And if you are a choosy buyer who would only buy specific designs, there is a need to be aware of the design you really need before leaving for the store.
Additionally, you need to be aware the benefits of and flaws of the design of your liking. Such aspects as the ability of the awning to withstand strong winds and the tendency to hold rainwater and snow on the top can be influenced by the design.
If you live in areas prone to heavy storms, for instance, you wouldn't choose a flimsily designed awning even if you really love such designs.
3. What is the fabric or material used to make the awning?
The type of fabric used to make the awning has a big say on various aspects.
Metallic awnings, though not so popular, are stable against storms and snow. They, however, get too hot during warm weathers that sitting under them can be considerably uncomfortable.
Canvas or polyester awnings are comfortable to under during pretty any weather, but they aren't as firm as their metallic counterparts.
The choice of a certain fabric can have implications on your budget as well. Also, the durability of your awning will be reliant on the kind of material used to make it.
Some of the commonly used fabrics are PVC coated polyester, acrylic-coated polyester, cotton canvas, plain vinyl, hardened canvas, Kevlar, and laminated vinyl.
4. Standard or retractable?
Standard awnings are fixed and will remain as you installed them until replacement. Retractable awnings, on another hand, can be adjusted at any time. In this effect, retractable awnings are flexible and are a more attractive option compared to standard options although it will depend on the purpose. If you are a fan of retractable awnings, you will have to choose between motorized and manual options.
5. What's the cost of the awning?
You only want to buy what you can afford. It is important to factor in the installation as well as the cost of acquiring the awning of your liking. Additionally, operational and maintenance costs (for motorized awnings) may not seem all too important at the start but will soon become noticeable after installation.
6. Where is your manufactured home located?
More specifically, what are the climatic conditions of your area of residence? As mentioned earlier, different types of awnings have different levels of resilience under different weathers.
Unless you live humid or temperate areas, there is no point in installing metallic awnings. Likewise, there is no point in installing cotton-based awnings if your area is prone to violent winds and storms.
Conclusion
If you are planning to sell your manufactured home, adding one of few awnings can see the value of your home increase significantly. They are also a cheaper way of adding style to the property.
Whether you prefer stationary, motorized, retractable, or portable awnings, you need to put into consideration all the definitive factors.
Such things as the overall cost of the awning and the type of fabric or material of manufacture have an influence on the functionality of the awning.